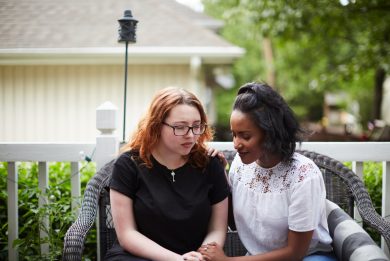 I love praying for people for healing and seeing them healed. I have seen some major sickness healed eg cancer, person requiring a heart-lung transplant receive some major healing and was no longer sick enough for the transplant list, broken bones healed, eyesight restored etc. I have also seen numerous 'minor' illnesses healed. I have also prayed for people at times when their healing was not instantaneous or seemingly they were not healed at all.
Through my journey over the last ten years on praying for people to be healed, I have noticed some common elements when people are healed but later find that their symptoms return, almost like they have 'lost their healing'. This can be very disheartening for everyone concerned. Thus, I have composed a pamphlet to give to people when they receive prayer for healing. Feel free to download it and print it off and give it out to people you pray for.  https://documentcloud.adobe.com/link/track?uri=urn%3Aaaid%3Ascds%3AUS%3A9770016c-ea67-43b7-aeb6-5043cb648b8e
Alternatively, you can email me at: [email protected] and I will send you a copy of the pamphlet.
Below I have also listed the details from the pamphlet.
What do we know about healing:
God desires that we are physically healed. He also desires that once we are healed, we keep our healing.
Jesus took all our sicknesses and diseases (Mark 8:17. Isaiah 53:4-5). We don't need to bare them too. Our role is to thank God that He carried them for us.
God is a good God no matter what. We don't have all the answers but God remains good. Learning to live with the mystery is part of the journey.
God desires that we are all healed.
You do not have to be a Christian to be supernaturally healed.
God uses medicine to heal people as well as using supernatural miracles.
We have found that forgiveness can help aid the process of healing but it is not 100% dependent on it.
There is no formula or one true method for healing with God.
Don't blame God for your sickness. God is not the author of your sickness. Sickness does not come from heaven. Sickness is not a blessing.
Sickness and pain is not your identity. Your identity is in Christ and you are His Royal son/daughter.
Believe you are healed.
God is always ready to have an encounter with you now and heal you.
Bible verses on healing:
Use the Bible verses below to mediate on and build your faith. Declare them out aloud whilst you wait for your complete healing and thank God that He is healing you.
Exodus 15:26 "For I am the Lord who heals you."
Psalm 103:2-3 "Praise the LORD, O my soul, and forget not all His benefits – who forgives all your sins and heals all your diseases."
Jeremiah 30:17 "But I will restore you to health and heal your wounds." declares the Lord."
Isaiah 53:5 "…and by His wounds, we are healed."
Matthew 8:17 "Jesus took our sicknesses and bore our diseases".
Matthew 14:35-36 "…People brought all their sick to Jesus and begged Him to let the sick just touch the edge of his cloak, and all who touched it were healed."
Mark 9:23 "Everything is possible for him who believes."
Mark 16:18 "They will place their hands on sick people and they will get well."
John 10:10 "The thief (Satan) comes only to steal, kill and destroy. I have come that they may have life and have it abundantly."
John 14:13 "And I will do whatever you ask in My name so that the Father may be glorified in the Son."
James 5: 14-15 "Is any one of you sick? Let them call the elders of the church to pray over them and anoint them with oil in the name of the Lord. And the prayer offered in faith will make the sick person well."
What should I do if I was healed but my symptoms return?
It is one thing to receive healing from God. It is another thing to maintain that healing. Having symptoms return after healing is not uncommon and it can be really confusing, discouraging and scary. But it doesn't mean that you didn't get healed or you did something wrong.  Stay calm and don't be intimidated.
Worship God and focus on God. Do not focus on your symptoms.
Build your faith. Chase after God's heart yourself. Start reading the Bible verses on healing. Declare out aloud that you have been healed.
Usually when the symptoms return, your first thought is "I thought God healed me. I guess He didn't after all". When you say or think that, you are opening a door for the devil to come in and bring the symptoms back to you. Thus, you need to change your thinking. Instead, start saying out aloud, "I am healed. I am completely healed through Jesus Christ."
Don't agree with the symptoms. Tell the symptoms to leave. You have been healed and you need to live as though you are. Do not accept the symptoms back. Tell them to leave in the name of Jesus. "I resist sickness in Jesus' name. Symptoms and sickness you must leave. In the name of Jesus Christ, I exercise authority over my body. Sickness and disease, I refuse to allow you to stay. My body is a temple of the Holy Spirit. Satan, you have no right to trespass on God's property. Now get out. Leave my body."
Be aware of what you say in everyday life. The words you speak are powerful. If you say, "My back is killing me", don't be surprised if your back 'kills you'. If you say, "I'm not healed yet", you won't receive your healing. Start saying the positive "God has healed me and is continuing to heal me".
Look for keys, promises and prophetic words that were spoken over you during the prayer time. Declare these out aloud. Meditate on them.
Please feel free to receive more prayer.
Should I stop taking my medicine?
NO – definitely do not stop taking your medicine until you have seen your Doctor and he/she advises you to stop taking it. This is really important. We are not medical doctors.
Taking your medicine will not "unheal you" if God has healed you, so let the doctor be the one to take you off your medication. This is not doubt or unbelief and don't let anyone tell you otherwise. It's just wise and sensible. If God has healed you, the doctor will be able to confirm it.
An attitude of expectation and thankfulness:
A key to healing is expectation and thankfulness. Jesus can't help but show up when we talk about Him. When we focus on Jesus and what He is doing with thankfulness, we always see increase. The important thing is to focus on what God is doing, not on what He is not doing. Focus on what God is doing – pain decreased, you felt peace or a warmth or you can move more freely.
Expect healing and start thanking God for it. Keep checking yourself out in regard to being able to do something physically you couldn't do before. Thank God for what He is doing. Eg "Thank you Jesus for healing my knee. Thank you that the pain has decreased. Thank you that I can walk more freely. Thank you for always finishing what you start. I give you permission to continue working on my knee."
If you only received a partial healing or you weren't healed instantly, walk away with the expectation and faith that Jesus is doing something in you.
Always feel free to ask for more prayer.
Prophetic Activations / Exercises to incorporate into your week:
Every week I list 5 prophetic activations/exercises under children/family, group, beginner, intermediate and advanced. The purpose of these exercises is to practice to help us hear God's voice in a clearer manner. They sharpen our senses to hear and see and sense God and His way of communicating with us. This enables us to grow in our relationship with God and also to impart to others what God tells us for them. Feel free to use as many of these activations each week as you can. The more you practice, the sharper you become at hearing God's voice. Enjoy! Remember that whenever you give another person a prophetic word or picture etc, please make sure that it is encouraging, edifying (strengthening) and comforting (1 Corinthians 14:3) and that it comes from a place of love.
1. Children / Families Activation: Ask God to show you someone you know who needs healing. Ask God to show you how to go about this and what to do. Then do it and watch what happens.
2. Group Activation: Select an issue that affects your community eg abortion or mental illness. Wait on God as a group and ask Him to show you how to best pray for and prophesy into this issue for your community. Have a time of sharing what you are feeling, thinking, hearing. Then, as a group, begin to pray and prophesy, practicing flowing as one and praying/ prophesying/ blessing along a similar thread.
3. Beginner Activation: Ask God to show you something you need healing for. Then spend time with God asking Him His perspective on this and how to go about praying for your own healing in this area.
4. Intermediate Activation: Ask God to bring to your mind someone who has recently had someone close to them die. Ask God to show you how to best pray for them and prophesy into their situation.
5. Advanced Activation: Ask God to show you which hospital to focus on. Then ask God to show you how to bless this hospital, the staff and the patients in it and to prophesy over their future.